Our Vehicles
Prior to founding Port Huron Party Bus, we were party bus customers ourselves! And we found that too many companies in our area skimped on the features that really make up an amazing party bus trip. That's exactly why we put our company together, so that you wouldn't have to put up with subpar party bus travel! We have a fleet of vehicles that will make your party truly incredible, whether you will be on the bus most of the time or whether you're hiring us simply for pickup and drop off services. For service in metro Detroit try Detroit Limos. In any case you'll wish your entire party had taken place on the bus! With built-in bars, flat screen TVs, and high quality audio systems, we've got it all. Just take a look:
10 Passenger Party Van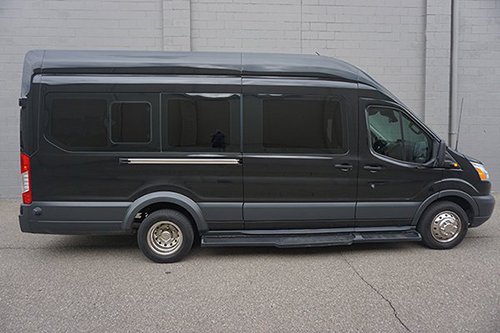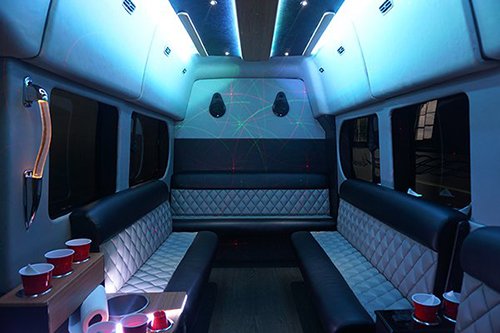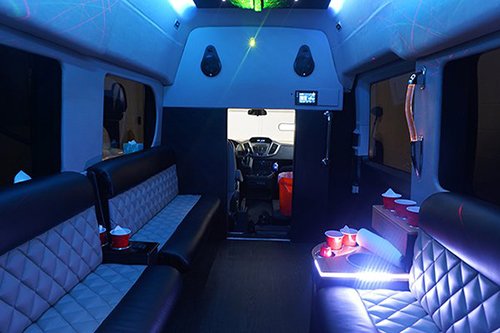 Our smallest party van is our 10 passenger van! This little van has it all, making it perfect for small groups who want to party!
Beautiful color-changing lighting throughout
Loud system to blast your favorite tunes
Dark tinted windows
IPod / CD Player
Custom leather seating
Granite topped bar with built-in coolers
Beautiful wood flooring
28 Passenger Party Bus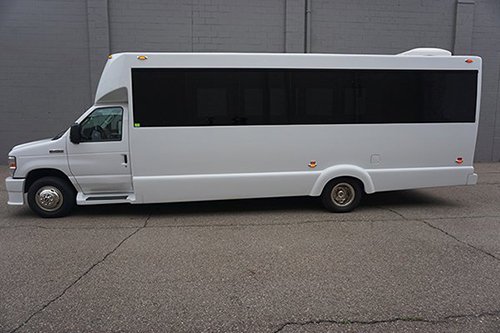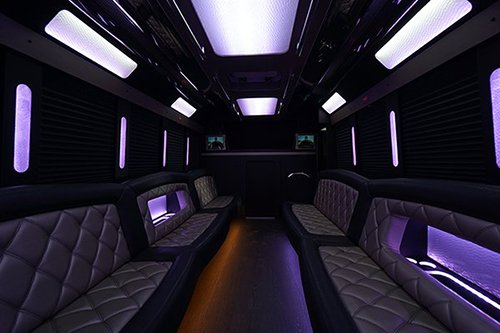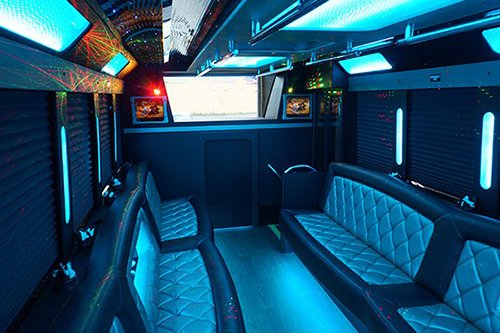 For your more intimate get togethers, you should consider renting our most "cozy" party bus, the 28 passenger white bus that pares it down and keeps it simple while still being very luxurious and incredibly comfortable. Here are its features:
LED lights that are so relaxing and elegant
Nice loud sound system to blast your favorite tunes
Flat screen LED TV's
Dark tinted windows
IPod / CD Player
DVD Player
Custom leather seating that's cozy and plush
Two granite topped bars with built-in coolers
Beautiful wood flooring
30 Passenger Party Bus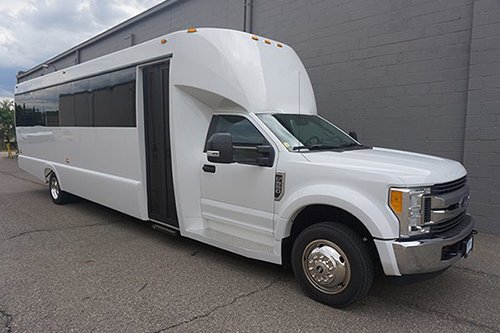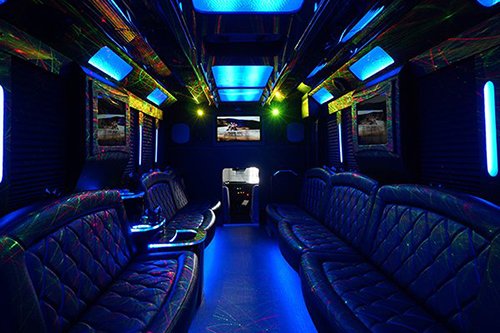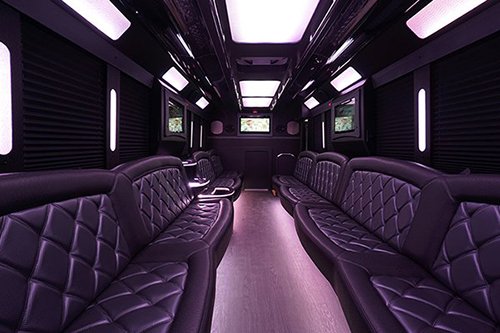 If you're looking to have fun with a small number of passengers, you're going to love our 30 Passenger Party Bus. This is perfect for a bar hopping adventure with all of your friends! Here are its features:
Crisp clear HDTV with a DVD player for your favorite movies
Really beautiful granite topped bar for mixing cocktails
High quality sound system that plays CDs and iPod music
Hardwood floors just like a high quality dance floor
Color changing interior lighting effects
34 Passenger Party Bus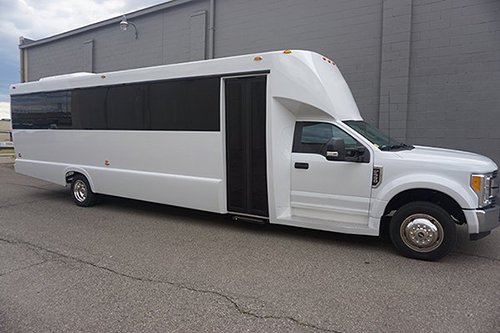 For medium sized parties you can't go wrong with this elegantly designed party bus that holds up to 34 passengers. Consider this bus for all your group travel needs in Port Huron:
Clean lines in the elegant interior
Privacy tinting on windows
Two granite bars with coolers
High quality sound system
LED lighting that changes color
Docking station for any iPod or MP3 player
Wood flooring that's perfect for shaking your groove thang
35 Passenger Party Bus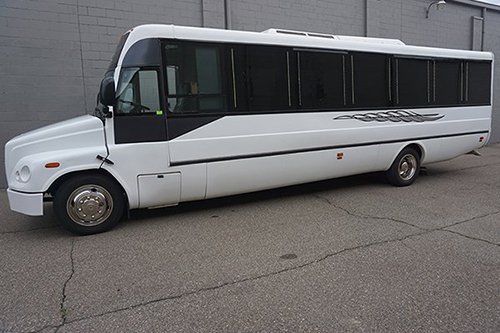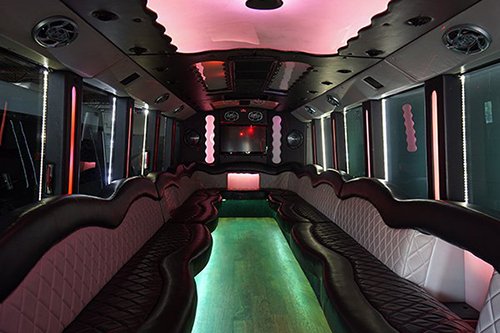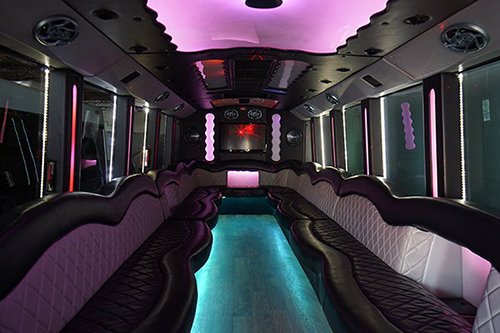 You're going to have a great time in this newly renovated bus! The interior of this bus is fantastically dazzling, and perfect for any event. Here are its features:
Premium hardwood dancing floors
Convenient bar areas with ice
Nightclub style lighting effects
Televisions with DVD inputs for entertainment
Subwoofer equipped sound system
43 Passenger Party Bus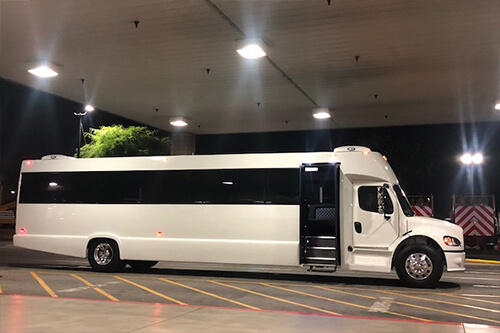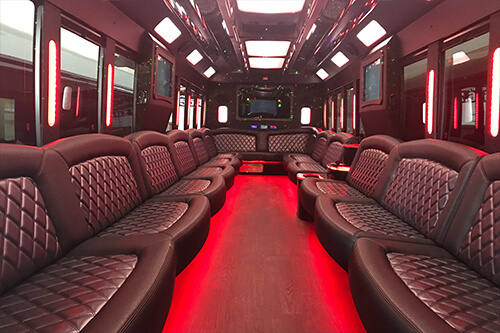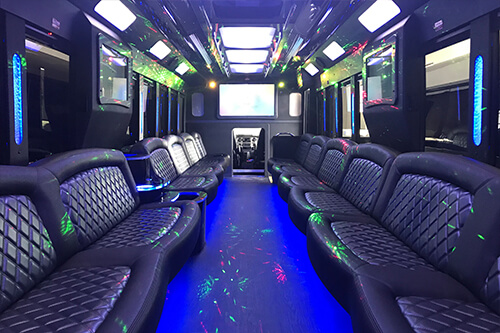 Our biggest party bus is our massive 43 passenger party bus! This spacious party bus has everything you need for an exciting night out!
Beverage coolers with ice
Premium hardwood floors
TVs and DVD player
Bluetooth audio and CD player
Vibrant color-changing lights
Televisions with DVD inputs for entertainment
Plush leather seating
10 Passenger Charger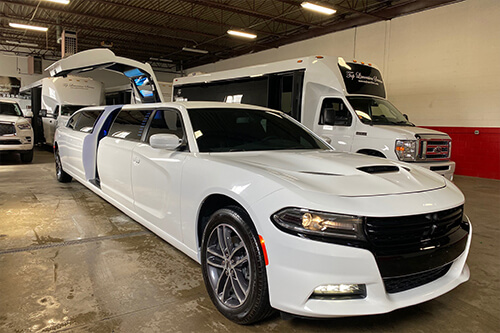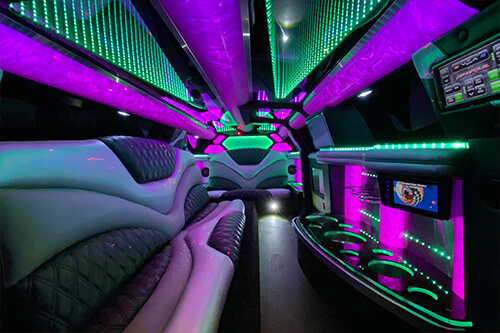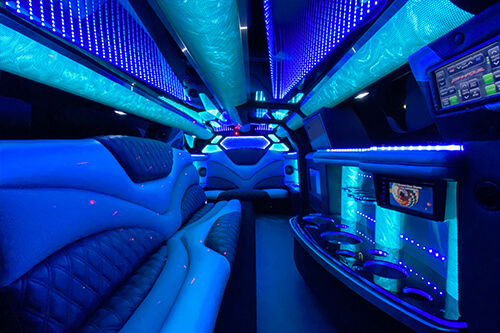 Our Dodge Charger limousine is a gorgeous limousine with a custom leather interior, bright lights, and TVs, and so much more! It's a perfect limo for anything form weddings to birthdays, and more.
Seating for 10 o 12 passengers
Jet wing doors
Strobe and laser lights
CD player, USB port, and Bluetooth audio
Beverage bars
Booming stereo system
TVs and DVD player
12 Passenger Range Rover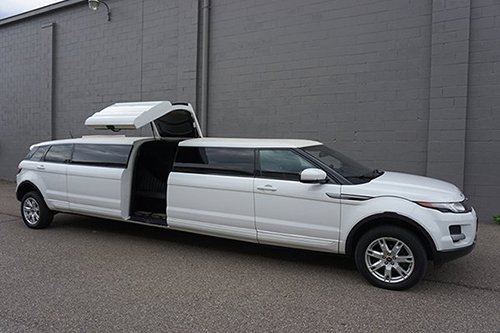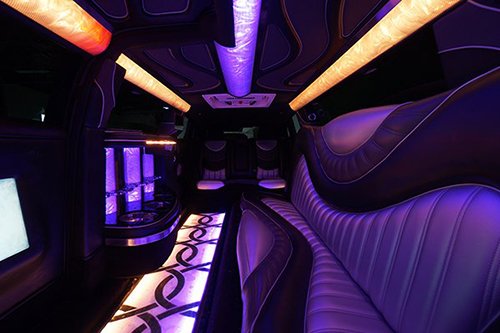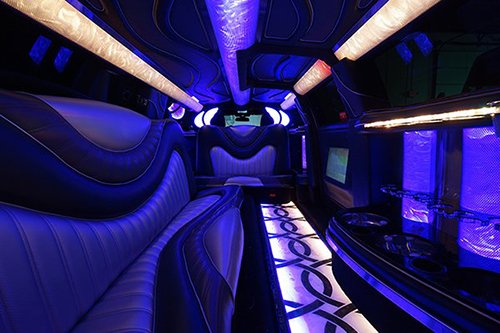 Perfect for weddings, wedding showers, bachelor parties, and all types of events with as many as 12 guests, this white party bus is packed with exquisite features such as these:
Color changing walls, ceilings, and more
HDTV to enjoy your DVDs on
Two granite topped bars with built-in coolers
iPod capable sound system that plays CDs too
Disco-lit floor and ceiling
Beautiful custom leather seats
12 Passenger Lincoln Town Car Limo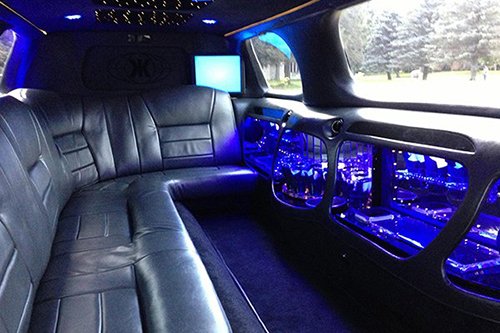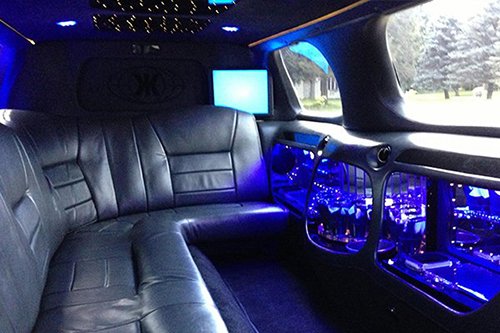 A classic limousine with seating for up to 12, our Lincoln Town Car Stretch Limo is the perfect choice for any event!
Leather wrap-around seating for up to 12 passengers
Flat screen TV
DVD player
Ceiling lighting and colorful lighting throughout
Tinted windows
Loud stereo system
CD player and iPod hookup
18 Passenger Infiniti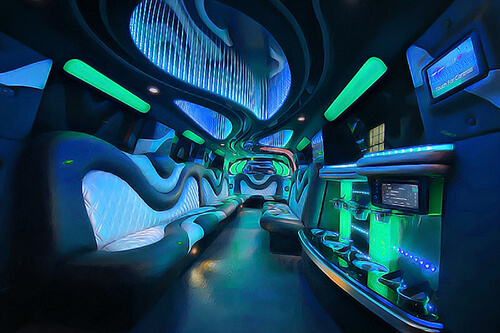 This gorgeous Infiniti limousine is a spacious and beautiful limousine for any type of event. This limo has a custom interior with great features and amenities:
Seating for 18 to 20 passengers
Strobe and laser lights
CD player, USB port, and Bluetooth audio
3 beverage bars
Jet wing doors
Infiniti ceiling
Booming stereo system
TVs and DVD player
20 Passenger Escalade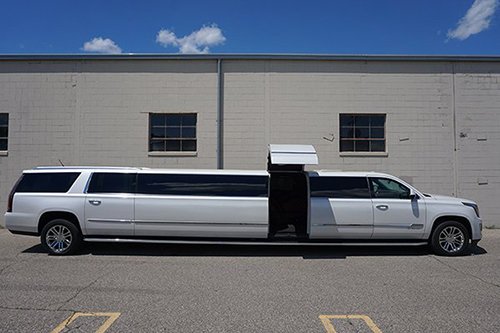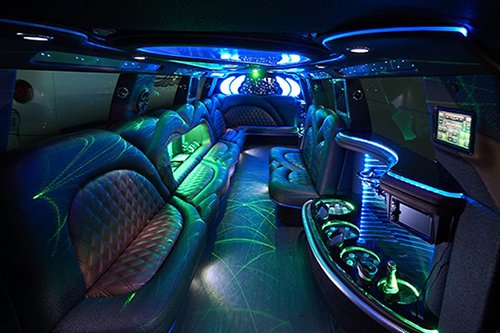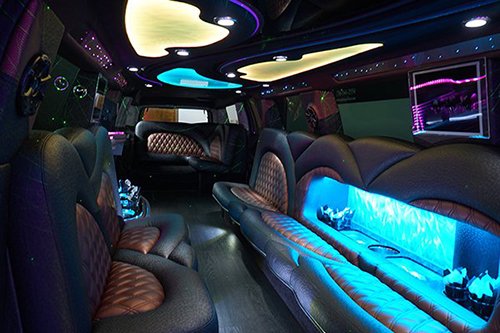 This sleek stretch Escalade takes limousine rides to a whole new level! Arrive at your next event with a limo that'll make everyone's head turn. Featuring :
Seats up to 20 passengers
Flat screen TV
CD/ DVD / iPod players
Colorfully lit beverage bar
Jet doors
Light paneled ceiling
Fiber optics lighting